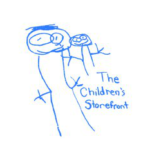 The Children's Storefront
Welcoming Toronto Families since 1975
Keep Up to Date with our Newsletter
Friday March 13, 2020
To foster greater community safety and security, The Children's Storefront will be closed until further notice. We are all concerned with ensuring that our community members are as safe and secure as possible. We do not want to become a source of possible contagion for any of our friends and community members.
We believe that due to the spread of the COVID 19 virus that now is the time to act to contain it. Another good reason to act now is to protect the acute care health system which could easily become overwhelmed if many people become seriously ill with COVID 19.
Please check below for the most current information:
We will update the facebook page as soon as we know when we will be open again.
Please stay safe and wash your hands!!!!
Best wishes for everyone's good health.
— Roona Maloney, Michel DeSouza, and our Board of Directors
Registered Canadian Charity #10807 6829 RR0001
Closed Until Further Notice
Lunch Served

11:30am — 1pm
Tuesday
9:00 AM - 6:00 PM
Wednesday
9:00 AM - 3:00 PM
Thursday
9:00 AM - 6:00 PM
About the Children's Storefront
The Children's Storefront has been welcoming and supporting Toronto families since 1975.  We are a not-for-profit with a full-time staff of two, a Kitchen Coordinator and a volunteer board of directors.
For over 40 years, parents, grandparents, caregivers and children have gathered at The Children's Storefront, to find support, form friendships, develop a strong sense of community, learn, and grow together. 
Our Community Kitchen offers wholesome, low-cost lunches every day.  We host occasional potluck brunches, fundraising dinners, cooking bees, and cooking skills workshops.
Because our mission has always been to be accessible to all families with young children, so The Children's Storefront has never charged for its programming. As the first child-parent centre in Ontario, we paved the way for many of the free programs now in existence.
We run on a shoe-string budget and get by with a little help from our friends.  Please consider donating $20, $35 or $50 today.  It's easy to do! Just click on the Donate button to make a secure donation via PayPal or mail your donation to The Children's Storefront, 826 Bloor St. W. Toronto, ON  M6G 1L9.
Volunteers are always welcome. Click on the Volunteer button to offer your help.
Thank you very much to the many kind friends and donors who have supported us over the years.
Sincerely,
Roona Maloney
Executive Director
The Children's Storefront, charitable tax number: 10807 6829 RR0001